FastBreak Beverages brings you 5 Iced Coffee Recipes
By FastBreak Blogging | May 28, 2013 at 10:19 PM EDT |
No Comments
FastBreak Beverages brings you 5 Iced Coffee Recipes for our Chicago summer.
Fastbreak Beverages offers all you need to enjoy the variety of tasty iced coffee drinks. We have provided a few recipes below. Try them with Dunkin Donuts Coffee, Starbucks, Donut House, White Bear, Maxwell House, Folgers or K Cups. FastBreak Beverages always suggest starting with filtered water from a water cooler or some type of filter. This is best for brewing the perfect cup.
1. Nutella Blended Coffee Drink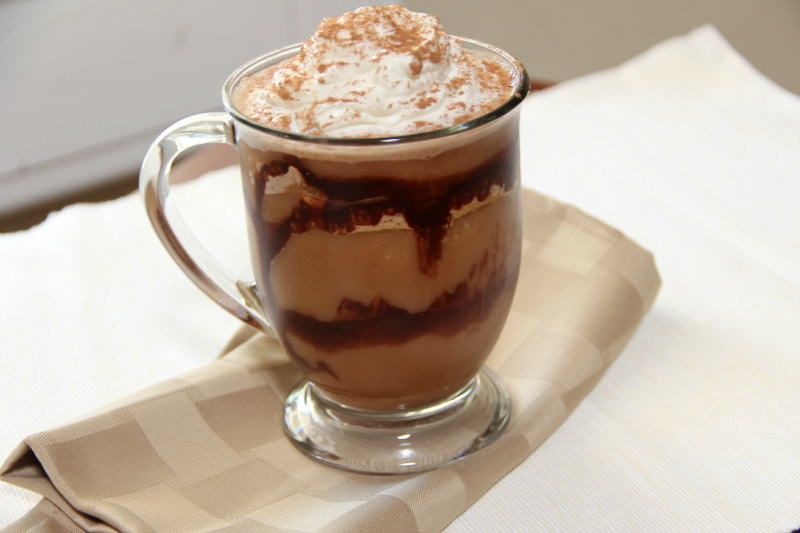 from Around My Family Table
1 cup milk (soy, rice, whole, etc)
1/2 tsp vanilla extract
1 1/2 tsp instant coffee
4 tsps Nutella
1 tbls sugar
1 cup ice
garnish: whipped cream, chocolate syrup, cocoa powder
Add all ingredients in the blender, except the garnishes. Blend until smooth. Finish by swirling a little chocolate syrup in your cup, pour in your drink, top with whipped cream and a sprinkle of cocoa powder.
2. Perfect Iced Coffee
by The Pioneer Woman
Ingredients
1 pound Ground Coffee (good, Rich Roast)
8 quarts Cold Water
Half-and-half (healthy Splash Per Serving)
Sweetened Condensed Milk (2-3 Tablespoons Per Serving)
Note: Can Use Skim Milk, 2% Milk, Whole Milk, Sugar, Artificial Sweeteners, Syrups...adapt To Your Liking!
(Adapted from Imbibe Magazine)
In a large container, mix ground coffee with water. Cover and allow to sit at room temperature eight hours or overnight.
Line a fine mesh strainer with cheesecloth and set over a pitcher or other container. Pour coffee/water mixture through the strainer, allowing all liquid to run through. Discard grounds.
Place coffee liquid in the fridge and allow to cool. Use as needed.
To make iced coffee, pack a glass full of ice cubes. Fill glass 2/3 full with coffee liquid. Add healthy splash of half-and-half. Add 2-3 tablespoons sweetened condensed milk (can use plain sugar instead) and stir to combine. Taste and adjust half-and-half and/or sweetened condensed milk as needed.
3. The Last Iced Coffee Recipe You will Ever Need
by Craving Comfort
First...
You have to make your coffee concentrate.
(This is the only part of the process that takes some time)
Don't worry, the gallon of coffee concentrate you end up with will make enough to last you for a month in the fridge!
You do NOT want to brew a normal pot of coffee for your iced coffee.
You want to cold-brew it.
This leaves you with a smooth, acid-free coffee base that we all love for a refreshing cold drink.
Iced Coffee Concentrate.
Ingredients-
1 gallon water (I buy a gallon of drinking water)
1 lb bag of your favorite rich coffee (course ground if ya can get it)
Coffee filters or several layers of cheesecloth
a fine mesh strainer.
a large bowl
pitcher (big enough to hold a gallon)
Directions-
Pour gallon of water into your large bowl.
Dump the entire bag of coffee into the water/bowl.
Stir to make sure all grounds are saturated with water.
Walk away, for 12 hours or overnight.
line a mesh strainer with a coffee filter or several layers of cheese-cloth, set the strainer on top of your pitcher.
Pour (or ladle) your coffee mixture into the strainer. (this part takes awhile... I often had to walk away while it filtered into the pitcher) If using coffee filters, you might have to replace them several times during the filtering process.
Once all the coffee concentrate has been filtered, stick it in the fridge (it will last for a month!)
4. If You Love Coffee Ice Cream but Don't Love Coffee
by: How Sweet it Is
Homemade Iced Mocha
serves 1
5 ounces brewed coffee, cold
1/2 cup milk
1 tablespoon heavy cream
2 tablespoons chocolate syrup
1 teaspoon vanilla extract
1 teaspoon brown sugar, not packed
for mocha sugar:
1 tablespoon sugar
1/2 teaspoon instant coffee powder
1 teaspoon cocoa powder
for homemade whipped cream:
1/2 cup heavy cream
1 tablespoon sugar
Brew coffee and let cool – this can work with leftover morning coffee, or I suggest making some at night and once it cools, putting it in the fridge overnight. However you want to do it, as long as you have cold coffee, you are set!
In the bowl of your electric mixer (or using a bowl and an electric hand mixer), add heavy cream and sugar. Beat until peaks form and you have the consistency of whipped cream – about 6 minutes.
On a shallow plate, combine sugar, coffee powder and cocoa and mix. Rim the edge of your glass with water then dip the edge in the mocha sugar mix to coat. Fill the bottom of your glass with one tablespoon of chocolate syrup, then add ice cubes. Pour in coffee, then milk, then vanilla, then heavy cream, then the loose brown sugar. Mix well with a spoon.
Add 1-2 tablespoons of whipped cream on top and another tablespoon of chocolate syrup. Drink up!
P.S. You can put ice cream in your iced mocha too. Shhhh. You didn't hear it from me.
5. Homemade Frappuccino Recipe
By: Kitchen Cheat Sheet (on Money Saving Mom)

1/2 package of Jell-O Instant Pudding, any flavor
1/2 cup strong brewed coffee (For a little more of a Starbucks flavor, add one package of Via instant coffee instead of liquid coffee.)
Milk (any kind — almond, soy, whole, non-fat)
Fill Magic Bullet tall cup with ice and add half a package (approximately 2 1/2 tablespoons) of your chosen pudding. Add coffee and top with milk (it should reach brim of cup).
Place the Magic Bullet cross blade lid on cup, put onto Magic Bullet base and blend to desired consistency (until you don't hear the ice crushing anymore).
Top with whipped cream if desired, and enjoy! If it looks too thick, there should be room for a little bit more milk. Stir and pack down what you have now, and add milk to the brim of cup. Blend for five seconds more.